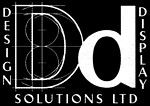 Exhibitions, Events, Promotional Support, Conferences & Roadshows
.................................
From conception to successful realisation, the experience of over 35 years of working with some of the largest corporate names to small and medium sized organisations, enables DDS to ensure that your corporate marketing events maximise your exposure.
Delivering Your Message
.................................
Our appreciation of the needs to ensure the successful and consistent delivery of your organisation's corporate or brand message is what drives us. Whether you are participating in international exhibitions, unique corporate events, roadshows, conferences, or even internal marketing events, DDS has the expertise to match budget, expectation and deadlines.
Quality Management Statement
.................................
Quality is an integral business principle of Design Display Solutions Ltd.
• Design Display Solutions Ltd is committed to provide the highest quality of service to its customers, suppliers and employees.
• Design Display Solutions Ltd is committed to expedite delivery of all our event and exhibition services ensuring that we meet your requirements within budget and on time.
• Quality assurance is demonstrated through references and testimonials by our clients.
• Where potential quality lapses arise; Design Display Solutions Ltd will provide appropriate preventative and corrective measures.
• Design Display Solutions Ltd strives to surpass your expectations through our efficient yet personable approach to every project.
Should you require any additional information with regard to our Quality Management Statement then please do not hesitate to contact one of the Team by Email: info@designdisplaysolutions.co.uk